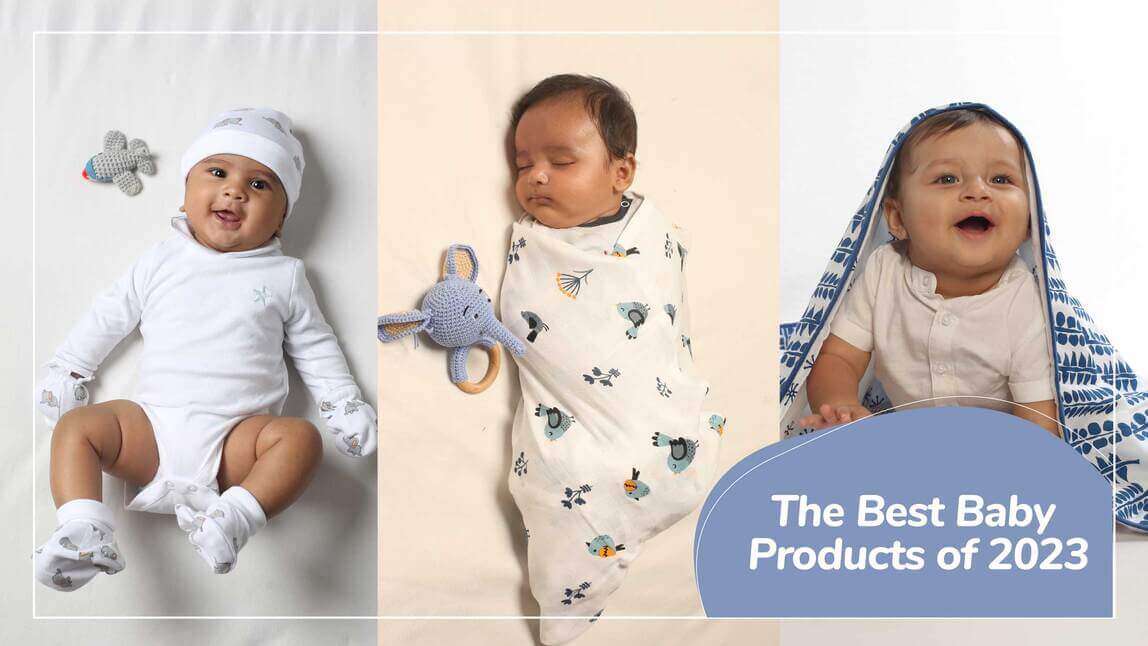 May 29 , 2023
Welcoming a newborn into your family is an incredibly special and joyous occasion. As parents, you want nothing but the best for your little one, and that includes choosing the finest baby products available on the market. In this article, we present a handpicked selection of the best baby products of 2023 to help you navigate the vast array of choices and make informed decisions. Whether you're searching for newborn essentials, organic cotton clothing, or adorable baby gifts, we've got you covered.
Swaddles: The Perfect Cocoon for a Peaceful Sleep
Swaddling is an age-old practice that provides a sense of security and comfort to newborns. Our premium swaddle wraps are made from soft and breathable fabrics, ensuring a cozy sleep environment for your baby. These versatile wraps are designed to promote safe sleep and are available in a variety of adorable patterns and colors.
Cap, Bootie, and Mitten Set: Keeping Tiny Extremities Warm
To protect your baby from the elements, a cap, bootie, and mitten set is an absolute essential. Crafted with love and attention to detail, our sets are made from the finest materials, providing warmth and protection for your little one's delicate head, hands, and feet. Choose from a range of stylish designs that are both functional and fashionable.
Washcloth or Baby Wipes: Gentle Cleansing for Tender Skin
Bath time is a special bonding experience between parents and their newborns. Our ultra-soft washcloths or baby wipes are gentle on delicate skin and perfect for keeping your baby clean and fresh. Made from premium materials, these essentials are designed to maintain the natural balance of your baby's skin while ensuring a soothing and hygienic bathing experience.
Baby Bibs: Practical and Stylish Accessories
Mealtime can be messy, but our collection of adorable baby bibs makes it a breeze. With their playful designs and superior absorbency, these bibs are a must-have accessory to keep your little one's clothes clean and dry. Made from high-quality materials, they are not only functional but also fashion-forward, adding a touch of cuteness to every meal.
Baby Blanket: Year-Round Comfort and Warmth
A cozy and versatile baby blanket is an essential item for any new parent. Our selection of baby blankets is crafted to perfection, offering luxurious softness and exceptional warmth. Suitable for all seasons, these blankets provide a snuggly haven for your baby during nap time, stroller rides, or cuddle sessions with loved ones.
Jhablas or Baby Vests: Chic and Comfortable Clothing Basics
Our range of jhablas or baby vests combines style and comfort effortlessly. Made from organic cotton, these breathable and hypoallergenic garments are perfect for your baby's sensitive skin. With their trendy designs and easy-to-use snaps, they make dressing and diaper changes a breeze while keeping your baby looking adorable.
Baby Clothing Sets: Effortless Style in One Package
For a complete and coordinated look, our baby clothing sets are an excellent choice. Combining jhablas or vests with leggings and bibs, these sets offer convenience and versatility. Crafted with the utmost care, they provide a comfortable and fashionable ensemble for your little one, making dressing up an enjoyable experience for both of you.
Conclusion:
Choosing the best baby products for your newborn is a priority for every parent. Our carefully curated selection of the best baby products of 2023 covers all the essentials, from swaddles to jhablas, blankets to bibs, ensuring that you have everything you need for your little bundle of joy. With a wide range of options and a focus on quality and comfort, our products are designed to meet the needs of both babies and parents alike.
When it comes to newborn essentials, it's important to prioritize safety, functionality, and style. Our products tick all the boxes, providing you with peace of mind and ensuring your baby's well-being. Whether you're shopping for your own little one or looking for the perfect newborn baby gifts, our collection offers something for everyone.
At Tinylane, we understand the importance of providing the best for your baby. That's why we have carefully selected and crafted our products with utmost care and attention to detail. From organic cotton jhablas to versatile baby clothing sets, our range embodies both comfort and style.
Make your journey into parenthood a delightful one by choosing the best baby products of 2023. Explore our online store or visit one of our trusted kids clothing stores to discover the full range of our offerings. We're confident that our products will exceed your expectations and become cherished items in your little one's early years.
Invest in the finest baby products and create a nurturing environment that is both safe and stylish for your precious bundle of joy. After all, they deserve nothing but the best.
Parenthood is an incredible adventure, and we're honored to be a part of it. Trust Tinylane to provide you with the best baby products that will make every moment with your little one even more special.
---