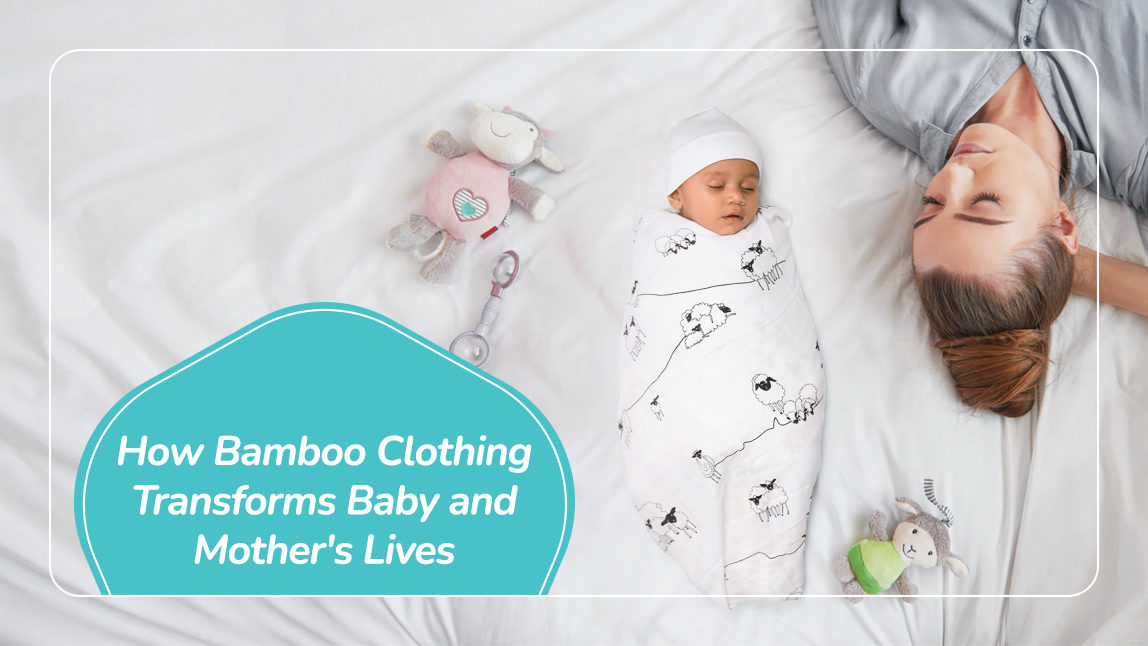 Jun 27 , 2023
As a mother, you are the superhero in your baby's life, always striving to provide them with the very best. From their diet to their wardrobe, every decision you make is a carefully thought-out adventure. But have you ever ventured into the world of bamboo fabric clothing? It's like discovering a hidden treasure chest of benefits for your little one's delicate skin and comfort while also adding a sprinkle of magic to your life as a mother. Here at Tiny Lane, we think every woman and her child deserves to have a magical experience. In this fascinating blog, you'll learn how clothes made from bamboo fabric, like newborn essentials, baby blanket and baby swaddle can have a profound effect on the lives of babies and their moms. Are you ready for a thrilling new experience? Let's dive in!
Transition from Pregnancy to Postpartum: How Bamboo Fabric Clothing Can Help
Comfort, functionality, and style are essential considerations in choosing clothing for baby. Bamboo fabric newborn essentials emerge as a game-changer, offering numerous benefits to aid in this transition.
Soft and Gentle:

Bamboo baby blanket and baby swaddle offer incredible softness and gentleness on the skin, providing optimal comfort to the baby

Stretch and Flexibility:

The natural stretchiness of bamboo fabric allows it to adapt to a baby's body shape, accommodating size fluctuations and ensuring a comfortable fit.

Breathable and Moisture-Wicking:

Bamboo fabric's excellent breathability allows for proper airflow and temperature regulation. It also has moisture-wicking properties that keep the baby dry and comfortable.

Easy Nursing Access:

Many bamboo fabric clothing options are designed for convenient nursing access, making breastfeeding hassle-free and discreet.

Hypoallergenic and Antibacterial:

Bamboo fabric

newborn essentials

are naturally hypoallergenic and antibacterial, reducing the risk of skin irritations and offering a clean and healthy environment for both moms and babies.

Sustainable and Eco-Friendly:

Bamboo is a sustainable and renewable resource that requires minimal pesticides or fertilisers, making bamboo fabric clothing an environmentally conscious choice.
Soothe Eczema and Other Skin Conditions in Babies with Bamboo Fabric Clothing 
Bamboo fabric clothing for babies, like newborn essentials, baby swaddle and baby blanket offer a gentle and effective solution for soothing eczema and other skin conditions in babies. With its natural hypoallergenic and antibacterial properties, bamboo fabric is a safe and gentle choice for sensitive skin, lowering the risk of irritation and discomfort. The exceptionally soft and smooth texture of bamboo fabric minimizes friction, providing relief and preventing further aggravation. Additionally, bamboo fabric's moisture-wicking properties help maintain a dry and comfortable environment, preventing excessive sweating and potential flare-ups. By choosing bamboo fabric clothing for babies, parents can provide optimal care and promote healthier skin, ensuring their little ones' well-being and comfort.
Summing Up 
Allow yourself to enjoy much-needed "me time" while your baby enjoys blissful slumber. As your baby is wrapped in the gentle embrace of our swaddle, the bamboo fabric delicately cares their skin, providing unparalleled comfort. The breathable and soft texture creates a soothing sensation, lulling them into a state of blissful relaxation. Meanwhile, you can take those precious moments to recharge, catch your breath, or simply enjoy some alone time. So, why not give our product a try today? Experience the difference these bamboo fabric products can make to you and your baby's lives. 
Visit our website to know more about bamboo fabric. 
---