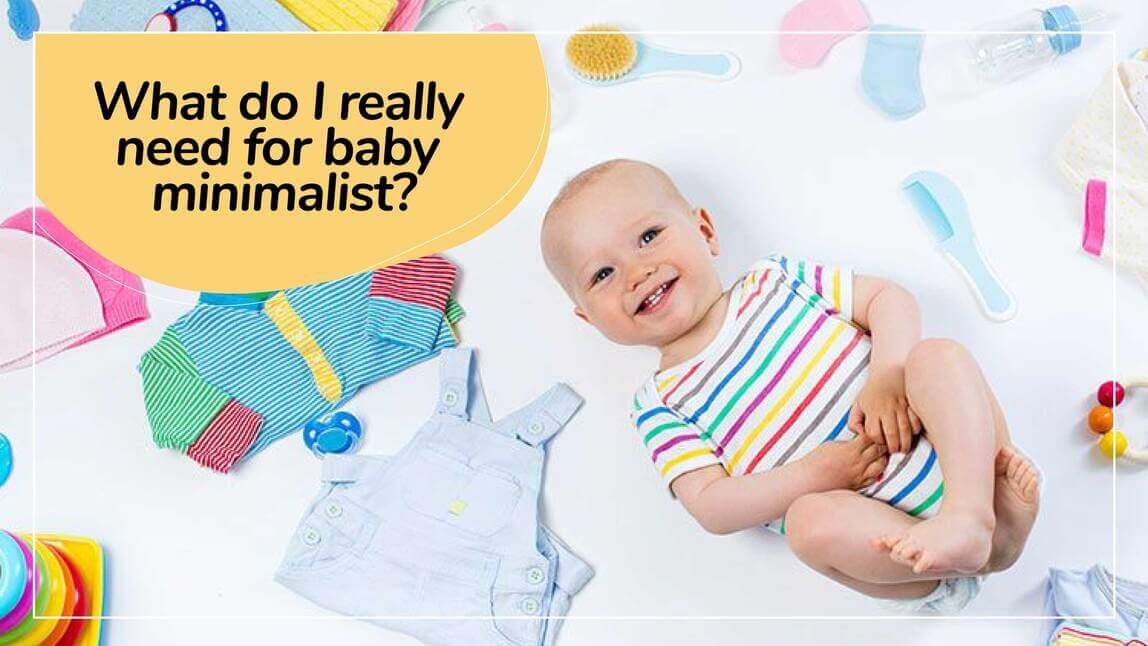 May 26 , 2023
Introduction:
In a world filled with an abundance of baby products, it's easy to feel overwhelmed when preparing for your little one's arrival. However, embracing a minimalist approach can help you focus on the essentials, simplify your life, and create a clutter-free environment for both you and your baby. In this comprehensive guide, we will explore what you really need as a baby minimalist, allowing you to prioritize functionality, quality, and simplicity.
Clothing:
When it comes to dressing your baby, it's best to keep it simple and practical. Here's a list of essential clothing items for your little minimalist:
Onesies and bodysuits: Opt for soft, breathable fabrics that are easy to put on and take off.

Sleepsacks: These wearable blankets provide warmth and comfort without the need for loose bedding.

Caps and booties: Keep your baby's head and feet protected from the elements.

Swaddling blankets

: Versatile and essential for creating a snug and secure environment for your newborn.
Diapering:
Diapering can be one of the most significant aspects of caring for your baby. Embrace simplicity with the following essentials:
Cloth diapers or eco-friendly disposable diapers: Choose an option that aligns with your values and lifestyle.

Wipes: Opt for reusable cloth wipes or natural, biodegradable wipes to minimize waste.

Diaper cream: Keep a gentle and effective diaper cream on hand to protect your baby's delicate skin.
Feeding:
Whether you choose breastfeeding or bottle-feeding, a minimalist approach can simplify the feeding process:
Nursing essentials: If breastfeeding, invest in a comfortable nursing bra, nursing pads, and a reliable breast pump if needed.

Bottles and formula: If bottle-feeding, select a few high-quality bottles and opt for organic formula if desired.

Burp cloths: Have a small collection of absorbent cloths for easy cleanup during feeding times.
Sleep:
Creating a peaceful sleep environment is essential for both baby and parents. Focus on the following essentials:
Crib or bassinet: Choose a safe and comfortable sleeping space for your baby.

Mattress and bedding: Invest in a quality, firm mattress that meets safety standards. Keep bedding minimal with fitted sheets and a few lightweight blankets or sleep sacks.

White noise machine: Create a soothing environment with a white noise machine to promote better sleep.
Bathing and Grooming:
Keep bath time simple and enjoyable with the following essentials:
Baby bathtub: Opt for a compact and easy-to-clean tub that can be used in your sink or bathtub.

Gentle cleanser: Choose a mild and natural cleanser formulated for a baby's delicate skin.

Soft washcloths and towels: Have a few soft and absorbent washcloths and hooded towels for gentle drying.
Conclusion:
Becoming a baby minimalist allows you to prioritize quality, functionality, and simplicity in your journey as a parent. By focusing on the essentials, you can create a nurturing environment for your little one while minimizing clutter and unnecessary purchases. Remember, it's not about having the most things; it's about having the right things that truly serve you and your baby's needs. Embrace the beauty of minimalism and enjoy the precious moments with your little bundle of joy.
---