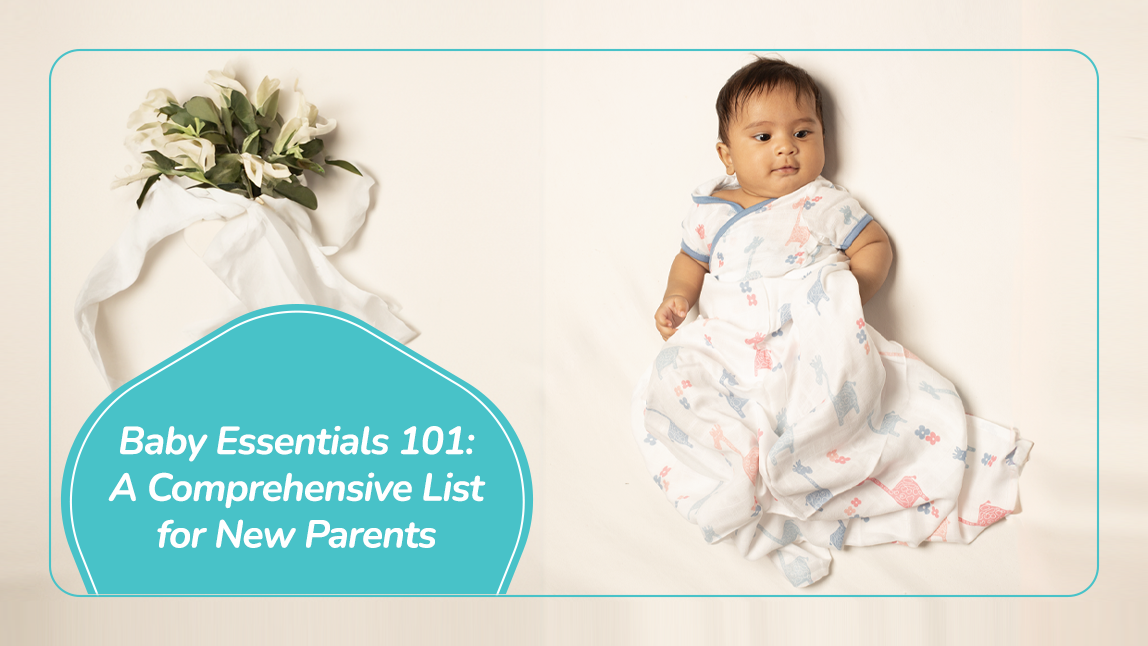 Jul 31 , 2023
There's no doubting the awe and wonder you'll feel as new parents as you prepare for the arrival of your first child. There seemed to be no end to the cute clothes and useful tools list. To put your mind at ease, we have compiled a complete list of newborn essentials you'll need for the new baby. Whether you're a seasoned parent or just starting out, Tiny Lane will help you find your way through the jungle of baby gear. So, let us lead you on the adventure of a lifetime as you get ready for the arrival of your new little bundle of joy!
Newborn Essentials on a Budget: Tips for New Parents
It's thrilling, but it can also be overwhelming for new parents to get everything ready for their baby on a tight budget. However, there are resourceful methods to fund the basics for the infant without going into debt. Buying in bundles turns out to be a smart financial move. When it comes to saving money, bundles of essentials of newborn care, like washcloths, vests, caps, booties, mittens, and bibs, are hard to beat. These adaptable sets have everything you need to set up a snug and welcoming nursery for your young one. You may save a lot of money on baby necessities without sacrificing quality or usefulness by looking for bargains, discounts, and purchasing during seasonal specials. By taking a frugal approach and making use of the savings that come with shopping combos, expectant parents can receive everything they need for their baby without breaking the bank.
Baby's Delicate Skin Deserves the Best: The Benefits of Bamboo-Cotton Washcloth
Extremely Hypoallergenic and Safe for Infant Skin: Bamboo-cotton washcloths are ultra-plush and gentle on your infant's skin, turning bath time into a relaxing experience.
Hypoallergenic and Safe: These washcloths are hypoallergenic, so they won't irritate even the most delicate infant skin, and they won't create any allergic responses.
Highly Absorbent: The washcloths are helpful in swiftly drying your baby's skin thanks to the bamboo-cotton blend's high absorption rate and moisture-wicking characteristics.
Eco-Friendly and Sustainable: Because bamboo is a naturally occurring, renewable material, bamboo-cotton washcloths are a great option for eco-conscious families.
Antibacterial and Antimicrobial: The antibacterial and antimicrobial characteristics inherent in bamboo prevent the growth of bacteria on the washcloths, giving you peace of mind that your baby is getting a clean and safe bath.
Thermal-Regulating: The thermal-regulating bamboo-cotton blend will keep your baby toasty during bath time without putting him or her at risk of overheating.
Durable and Long-Lasting: Washcloths made from bamboo fibers are long-lasting and can survive several washings while still retaining their plush texture.
Chemical-Free and Non-Toxic: Washcloths made of bamboo cotton are frequently processed without the use of harsh chemicals or pollutants, making them a safe and all-natural choice for your newborn's skin.
Generous Size and Convenient Design: The bigger size of many bamboo-cotton washcloths allows for more thorough drying after a bath or shower. In addition, they have handy details like loops for hanging to dry and stow away when not in use.
Multipurpose Use: These washcloths are great for more than just the bathroom; they can be used to clean up spit-ups, wipe off drool, and even double as soft burp cloths for your baby.
Softness Retention: The bamboo-cotton blend will continue to feel soft and luxurious even as your baby grows.
Stylish Designs: To make bath time more fun for you and your baby, you can choose bamboo-cotton washcloths in a wide range of stylish and attractive patterns.
The Top Must-Haves Combos for New Parents
Washcloths for Babies
Cloth diapers, baby wipes, and washcloths are all must-haves for new parents. These ultra-gentle washcloths were made with newborns in mind. You can use them in the shower to clean up spills and drool and even to gently scrub your face. The washcloths are manufactured from safe and gentle fabrics that are ideal for use with infants.
Super Soft Baby Vests
Babies absolutely need to have super soft baby vests in their wardrobes. These vests are constructed from soft, breathable materials that will keep your little one warm and snug all day long. They're great for wearing underneath other clothes for added warmth on chillier days or as a breathable foundation on warmer days.
Super Soft Baby Essentials Combo - Cap, Booties, Mittens & Baby Bibs
This set includes four baby necessities (a cap, booties, mittens, and a bib) and is of great value. The cap aids in temperature control by keeping the baby's head toasty, and the booties and mittens shield their tender feet and hands from the outdoors. In addition to protecting the baby's clothing from spills and drool, bibs can also help make mealtimes go more smoothly.
Super Soft Baby Essentials Combo - Washcloths/Napkins & Baby Bibs
The combination of washcloths (or napkins) and bibs is a considerate gift for a newborn. The washcloths serve multiple functions, from the bathroom to the kitchen to the living room to the garage. Baby bibs are the perfect companion for dealing with messy times like mealtime and teething. Babies' delicate skin is protected from discomfort by the use of only the softest fabrics.
Super Soft Baby Essentials Combo - Cap, Booties, Mittens & Baby Washcloths/Napkins
This set comes with a selection of useful baby items, such as a cap, booties, and mittens, as well as a washcloth or a set of napkins. The cap, booties, and mittens keep heads and feet warm and protected from the elements, while the washcloths or napkins make quick work of spills and messes. Parents will be confident that their infant is warm, clean, and comfortable with this set.
Summing Up
With the correct knowledge and preparation, however, navigating the world of baby basics can become a thrilling voyage of love and care. As new parents, your top priorities in purchasing these goods should be comfort, safety, and practicality. The planet will be in better shape for future generations if we prioritize sustainable and environmentally friendly practices. Keep in mind that every infant is different, so it's important to modify this list to fit each family's specific requirements and preferences. Although becoming a parent isn't without its difficulties, you can make the change easier by preparing yourself with helpful information and high-quality baby necessities.
---